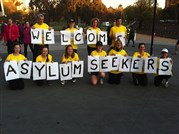 B VFA

Expires
Wednesday, 30 April 2014
B's running for refugees!
I'm taking part in Run 4 Refugees as part of the Melbourne Marathon and hoping to raise much needed funds for Asylum Seeker Resource Centre (ASRC). This year I'll be running the 10k again and aiming to go faster than last year.
For 12  years the ASRC has been fighting for the human rights of asylum seekers. Over 7000 people have been provided with sanctuary, support and hope by the ASRC in this time and thousands of people have won their freedom through their work. 
Make a difference by supporting my run with a donation. All donations big or small will make a difference in the lives of some of Australia's most vulnerable people! Click on Donate Now (right) and do something amazing! 
Thanks for your support.

Asylum Seeker Resource Centre
The Asylum Seeker Resource Centre (ASRC) is an independent, not for profit organisation that is committed to upholding the human rights of all people seeking asylum.

Our mission is to protect people seeking protection from persecution and destitution, support well-being and dignity, and empower them to advance their own future. We do this by offering 30 holistic programs that provide legal, education, and employment services, as well as healthcare, community development, aid and food to more than 3,000 people each year.
FUNDOMETER
Target
$700
Raised So Far
$220
Biggest Supporters:
Anonymous: $150.00
Stevie Schafer: $30.00